So here's my chance to tell you all the little personal things about me that you probably didn't really care about but hey, it's my blog.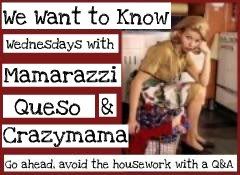 1. You've been asked to give a 10 minute speech to teenage girls. What is it about?
Can I just text it to them? Because really, I don't think they're going to pay attention to what I have to say for a full ten minutes unless they can look at their phones. I would try to explain to them about their worth, how they are amazing creatures that should be valued, not silly things that no one cares about. If they feel like they are worth something, then chances are they will insist that others treat them as such, instead of putting up with possessive or demeaning boyfriends OR friends just for the sake of having them.
2. Do you have a pet? Tell us about them. No pets? Why?
I suppose my daughter's
hamster
counts as my pet, since I sneak into her room after she's asleep and play with him. But he's not really mine. I would love to have a dog, so much so that if you have a dog and I come to visit, chances are I will roll around on the floor with your pooch and wrestle and pet 'em instead of actually talking to you. Unless you have chocolate. The Man has never had a pet. Not even a goldfish. He's resisted pets but I put it in the marriage contract that one day, we would have a dog. If my father weren't so allergic, we'd probably already have a cat.
3. What is the biggest inconvenience about the place you're currently living?
No backyard. I have a hard time sending the kids out to play because it means they pretty much roam the neighborhood, joining up with the other flip-flop-wearing hordes in search of more otter pops. Also? It's a big sticking point with getting a dog. He or she would have to be an indoor pet because there's just no place to leave a dog outside. I used to think that no fences meant more open spaces but now, I'm thinking maybe I should have valued my privacy a little more.
4. What do you think is the single best decision you've made in your life so far?
Almost all of the answers I've read for this one said marrying their husband. So I'm going to take it back a step and say that my best decision was to leave Texas. It was here in Utah that I not only found my faith again but also a sexy little piece of geekcake. Really, leaving home was what helped me realize my strengths and also that I needed to take off the rose-colored glasses and blinders.
5. What are the three "nevers" of your life? (things you would never do or have never done)
- Never been drunk, despite trying my hardest that one time in college (sorry, Mom and Dad).
- Never broken a bone in my body, but have had some demolished by doctors to make me Bionic.
- Never matched up with a swap partner who didn't send a package. I have received some packages that were missing 50% of the donkey, if you know what I mean.
Answer one of these questions in the comments! (Or link up on your own blog and join in on the fun!)