Okay, I have returned from the land of pit toilets and roaming buffalo! If you'd like to see pictures of my trip to the Grand Tetons and Yellowstone, please let me know, otherwise, I'll keep those posts to a minimum.
BUT...while I was gone, look what came in the mail!
Ooooooo!!
I just love when I get to open lots of little presents!
Swap Time!
At the last minute,
Mamarazzi
had to switch me to a new partner. Jeannie is a completely awesome triathlete who can face down a chocolate-laden vending machine armed with only a cup of tea. I had to find some items to fit her sporty, single style, so I let Boo and Boy pick out a couple items after explaining that they had to be red, white or blue. Let's just say that I hope Jeannie has a good sense of humor...
For only having two days notice that she was switching partners, I think
Jeannie
did a fabulous job! Here's the short list: blue plaid tote bag (have already used it!), Cheez-its, flip-flops, lunch container, note cards, GUM!, aloe gel (she suggest putting it in the fridge and I really could have used this
a little while ago
!), fabulous scented soap, herbal tea bags, nail polish, nail file, red tin, blue puff, lotion, napkins (so cute!), summer-themed stickers, and a band-aid box that is a great size for the diaper bag.
(The kiddos already half-emptied the Cheez-it box when they thought I wasn't looking...that's okay...I took the other half when I thought
they
weren't looking!)
Thanks to Jeannie and Mamarazzi! I just love swaps! If you hear about one, please let me know.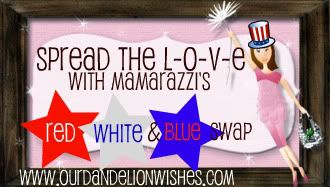 And speaking of swaps, I was considering hosting one...see, I'm about
three
posts away from big ol'
#500
and wanted to do something to celebrate. Why not a swap? Help me pick out a theme: items that begin with a certain letter, vacation in a box, baking items...
What do you think?
Or would you rather I just give out a few random prizes?