As if
the last two swaps*
didn't almost do me in...now I've gone and signed up for another one!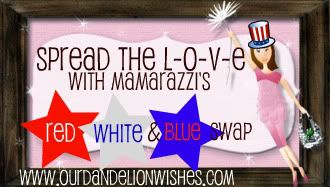 I've already got a couple things for this but then read where Mamarazzi suggests that the package doesn't have to be patriotic! Just red, white, or blue.
Sweeeeeeet
! Oh, my partner had better have a good sense of humor...
*In the last one, my partner was in Singapore. About two weeks after I sent her package, I got it returned in the mail, all item except one were unwrapped. No explanation, nothing. Did she really hate it** that much??
**Actually, she never received it...not sure what happened.