You might be expecting a Teaser Tuesday, but right now I'm reading
2012 Guide to Literary Agents
. And I doubt you want to hear a teaser about some random agent located in New Jersey who does not accept unsolicited manuscripts. But go on over and see
MizB
and check out some of the featured teasers. (Or look through
my archives
.)
Instead, I have this: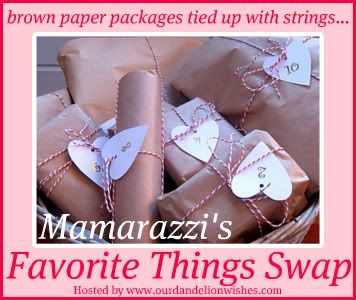 It's been awhile since my last swap and I was starting to get the shakes. Just in time to feed my addiction,
Mamarazzi
posted about her Favorite Things Swap! And I was partnered with the lovely Kat from
Measuring My Life
. I got my package of springtime awesomeness.
Here's what she sent:
A gorgeous yellow scarf that as soft as it is pretty.
Dishtowels with cute little chicks dancing across the bottom (Baby tried to take them to bed with her).
Easter egg banner, which I regrettably cut off in the picture.
Butterfly cards with envelopes.
Spring wreath that is already hanging in my entryway.
Ceramic owl plant stake, which is so completely adorable that I really hope the houseplant I put it in survives longer than they usually do.
Yummy smelling candle that Boo insisted we light immediately and then sat over sniffing until she nearly singed her hair.
Dove spray that has disappeared since the picture was taken so I can't tell you the fragrance until after I search Boo's bed for it.
EOS lipblam in Sweet Mint. I had one of these when they first came out and I thought they were so cool. Glad to have another one!
Dove dark chocolate because Kat is awesome.
Pink shimmering nailpolish. (Also something I'm going to have to keep hidden so Boo doesn't steal it.)
Laffy Taffy eggs. There were three of them, but since both of the girls were watching me unwrap the package, you can guess what happened to the other two.
The spring colors and decorations, combined with the unseasonably warm weather today had me looking forward to Spring. I love a good swap! And my favorite part is meeting other bloggers and seeing just how many things I have in common with other people who I'd never meet otherwise.
Thanks,
Mamarazzi
, for hosting a fabulous swap! And thanks to
Kat
for putting together a lil box o' sunshine!